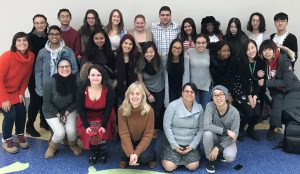 Welcome to the Intercultural Communication Lab in the Department of Psychology at the University of Alberta, directed by Dr. Kim Noels. Currently there are 4 graduate students, over 20 undergraduate students and 1 visiting research scholar active in our lab. You can check out who they are and what they do under the people section of the website.
Our research concerns cultural identity, foreign language learning, and the interrelations between language and ethnic identity. The topics we are currently investigating are acculturation and ethnic identity, L2 motivation, gender and language, as well as language mindset and immigration policy.
Territorial Acknowledgement
We would like to acknowledge that we are on Treaty 6 Territory, traditional land of diverse First Nations, including Cree, Blackfoot, Metis, Nakota Sioux, Iroquois, Dene, Ojibway/ Saulteaux/Anishinaabe; Metis and Inuit people.